As many of you will know if you follow me on Twitter, I am a huge fan of e-ink displays and technology. There are huge savings in terms of battery life running these panels and their readability in intense sunlight is well known. At CES 2023, Lenovo showcased two devices sporting the technology. This is exciting as there is a hope that this will drive the cost of e-ink technology down by increasing the opportunity for its adoption.
ThinkBook Plus Twist
The ThinkBook Plus Twist brings back the classic twist and fold style hinge that debuted back on the ThinkPad X41t which you can learn more about the history and the device in my video.
The device sports respectable specifications in its own right and the design reminds me of a mix between the ThinkBook line, the ThinkPad Z13 and the X41t. One item of course that separates the ThinkBook Plus Twist from the rest is of course the colour e-ink display on the back of the lid. This will potentially be a great solution for those that want to take notes on the go and have a solid tablet and laptop experience all wrapped into one.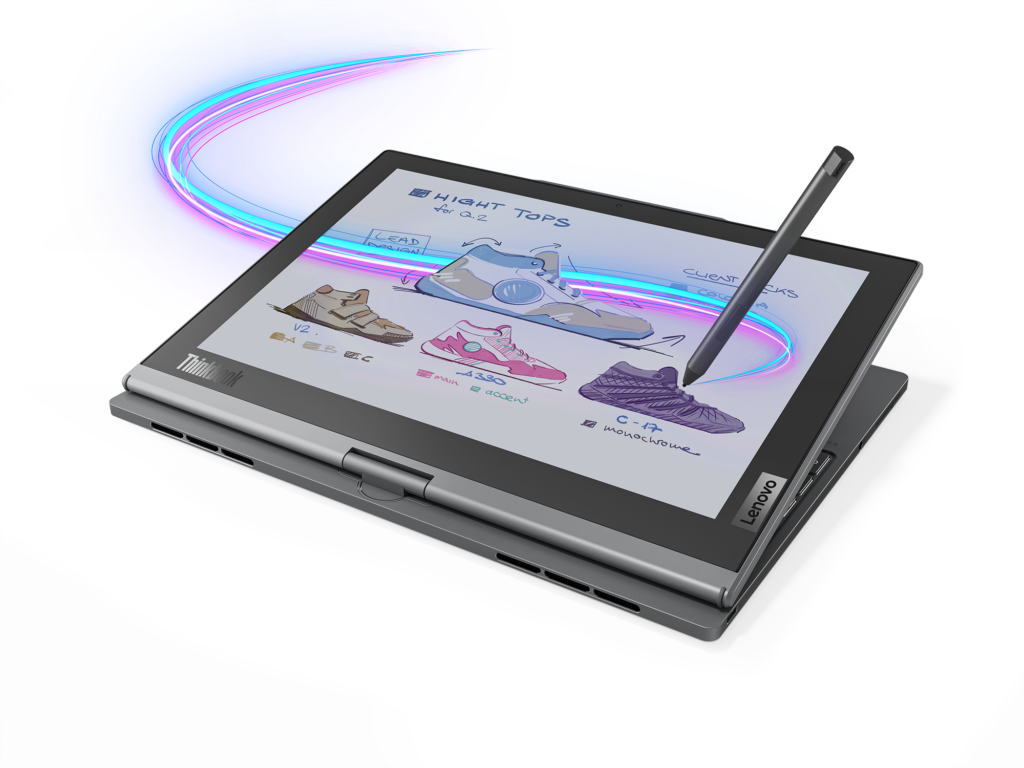 The display is 12 inches can last several months on a single charge and features a 12Hz refresh rate and touch glass surface. The ThinkBook Plus Twist will be priced at $1649 and is expected to be available starting June 2023. For detailed specifications, see the chart below. Some might worry though about having a screen on each side of the lid when it comes to storage and transportation so fingers crossed it is built with durability in mind.
ThinkBook Plus Twist
Performance
Processors
Up to 13th Gen Intel Core Processors
OS
Windows 11
Memory
Up to 16GB LPDDR5X
Storage
Up to 1TB PCIe Gen 4 SSD
Graphics
Intel Integrated Graphics
Displays
13.3-inch 2.8K OLED with touch glass and pen support, 400nits, 60Hz, 100% DCI-P3, Dolby Vision support 12-inch front-lit Color e-Ink Touch display with pen support
Audio
Lenovo sound with dual speakers and dual-array microphones, Dolby Atmos® support
Camera
FHD RGB camera with shutter
Battery
56Whr
Physical Security
Smart Power-on Fingerprint Reader Camera Shutter
Connectivity
Ports
2 x Intel® Thunderbolt™ 4 USB-C ports
1 x 3.5mm audio jack
Wireless
WLAN Intel Wi-Fi 6E 802.11 AX (2×2)
Bluetooth® 5.1
Lenovo Smart Paper
The Lenovo Smart Paper is the device I'm the most interested in between the two at the moment. There are several solutions for taking notes on an e-ink device but some are cost-prohibitive and rely too heavily on subscription services.
It comes equipped with a 10.3″ E-Ink screen that is dual-color and has an auto-adjustable front light. Lenovo also claims a great feeling while writing with a stylus that supports 4,096 levels of pressure, tilt and more for a robust writing and sketching experience.
The video above features the device in a few different settings but you get the impression that education is one of the sectors that they hope the device will catch on. Cloud storage is possible as well but exists behind a subscription paywall. Hopefully, it is more affordable than the competition.
Currently, the cost of the Lenovo Smart Paper is stated to be $400 USD and the subscription service is not known. That potentially puts it at the premium end of these note-taking devices but if the subscription service isn't essential like it is for some of the competition, then paying more for the hardware would be acceptable. Speaking about the hardware, it does rather well in that department. For detailed specifications, see the chart below.
Lenovo Smart Paper
Processor(s)
RockChip RK3566
4x 1.8 GHz
Operating System
Android AOSP 11.0
Memory
4GB+64GB
Display
10.3" E-Ink Display, 1872 x 1404 resolution, 227ppi
Front light
Dual Color Front Light
24 Brightness Levels (automatic screen adjustment)
24 Adjustable Temperature Tones
Microphone
Dual Mic
Sensor
Accelerometer (G) Sensor, Ambient L-sensor, Hall Sensor
Battery
3550mAh (Typ.)
Reading Time: 8500 pages in one charge
Note Taking Time: Write 170 pages of notes in one charge
Dimensions
195mm x 226mm x 5.5mm
Weight
~408g (~0.9 lbs.)
Colors
Storm Grey
Ports
USB Type-C 2.0
Wireless
Wi-Fi
Bluetooth 5.2 support BLE
Software

Email
Calendar
Clock
Calculator
ebooks.com app

Compatible Accessories

Lenovo Smart Paper pen
Lenovo Smart Paper folio case
Looking ahead
There are a growing number of solutions for those seeking e-ink, note-taking capable devices and that is a good thing. The more choices, the better for the consumer. The challenge we have right now is that many common cloud or software packages do not natively support e-ink content creation which means that you need to invest in one of the existing platforms to produce, store and access your content. Eventually, it would be nice to see some common or even open-source software that can run and load notes between all of these devices. That way, you might not find yourself artificially locked into one particular platform or subscription. Regardless of all this, having two more choices to pick from offered by Lenovo, a well-established company, follows others and hopefully adds additional legitimacy and demand of these devices.