ThinkMods have announced one of their next products on their Discord today. It is a better-built version of an existing mod that puts a USB port inside of your compatible ThinkPad.
This is really handy if you have a USB module for a mouse or keyboard that you use all the time but don't want to use up an external port. Instead, it plugs into an absent SmartCard plug found on the motherboard. To be clear, this mod is only possible on the X220/X230 and T430 machines. The Tablet variants of the X series listed should be compatible.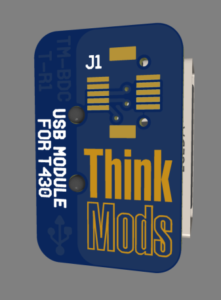 While this mod currently exists and can be found on several websites, there are some key differences that the ThinkMod version will provide.
Unlike the Chinese one, these will both be available for $5, and the X220/X230 one actually has a full 5V voltage regulator, so it provides a proper 5V unlike the Chinese one which only provides 3.3V.
(some USB devices, like logitech unifying receivers, are ok with 3.3v, but not all are)

So in summary: Higher quality, cheaper, and ships much faster than the Chinese variant.
While the main focus remains on getting the TM-E2M finished, it is exciting to hear what they have in the works. For more information, consider dropping by their website, https://thinkmods.store/