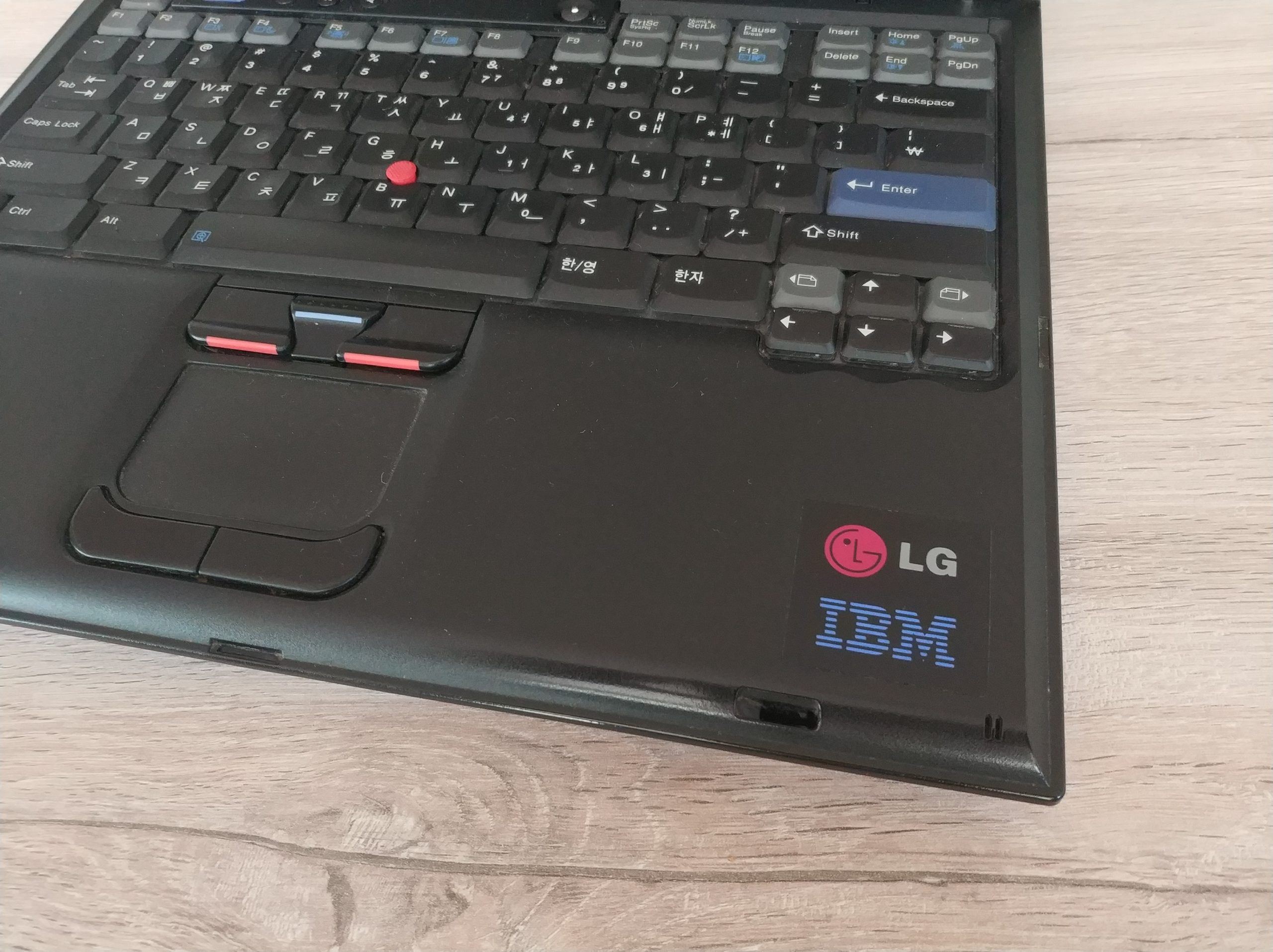 A Sticker
If you are like me, you have spent some time looking through Hardware Maintenance Manuals for ThinkPads. It was actually while looking at the HMM for the T41 to disassemble and remove the WLAN card that I noted some interesting references to LG-IBM branding. Specifically, stickers were to be placed over any replacement parts bearing the ThinkPad branding for the South Korean market.
A friend and avid ThinkPad collector Tasurinchi shared an article with me that mentioned the breakup of the deal. This was clearly the tip of the iceberg of an interesting story. We both knew about the Acer partnership where Acer was contracted out to build several laptops under the ThinkPad brand. However, it would appear that the ThinkPad R40 and R40e (pictured above) were built in South Korea in LG owned factories. The sticker located on the bottom of my R40 confirms this (Made in Korea) and the schematics as discovered by Thinkpads.com forum user Screamer found the manufacturers were "LG Gryphon" and "LG D3 Entry" respectively for these two machines.
So where did it all begin?
A Partnership
In 1996, IBM entered into a partnership with LG to break into the Korean market. The arrangement created LG-IBM and saw IBM owning 51% of the company controlling the manufacturing and marketing of PCs while LG's 49% was focused on other consumer electronics. This allowed IBM to break into the market, shipping their PC solutions and it gave LG an excellent opportunity to learn everything it could from IBM.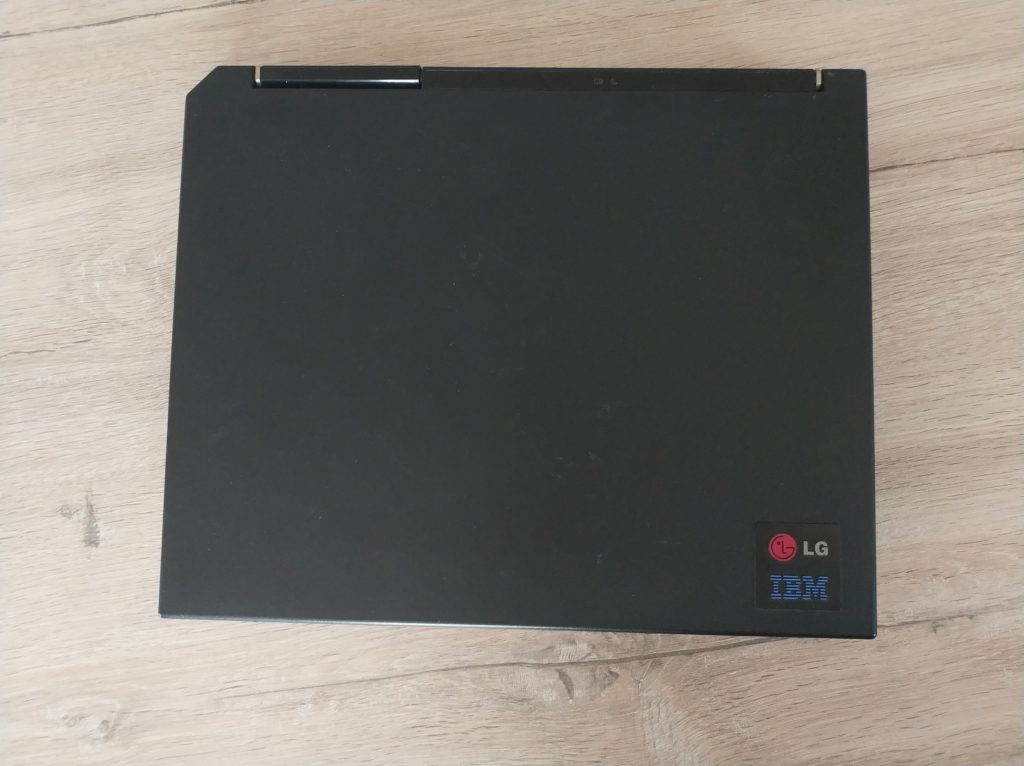 A Scandal
In 2004 the announcement came that the two companies would be splitting off, each essentially retaining their own rights to their respective properties. IBM would retain their rights to all of their trademarked properties like ThinkPad and LG would continue developing their own line of laptops called the Xnote. Interestingly enough, both IBM, LG-IBM and LG were targets of a bribery scandal that both parties claimed was unrelated to the announcement to split.
The two companies said the separation was unrelated to the indictments early this year of three officials of LG IBM and three from IBM's Korea unit on charges of bribing government officials in order to win contracts to supply computer parts and services.

After the indictments were issued, IBM said that it had dismissed its three officials and that the three from LG IBM were no longer working there. The three former IBM Korea employees were convicted by a Seoul court in February, according to Reuters news agency. – Wall Street Journal September 15, 2004
The company was hit with a bribery scandal early this year. Former executives of IBM Korea have been jailed for bribing government clients and rigging bids, while officials of LG Electronics were fined. – Korea JoongAng Daily August 30, 2004
While these types of scandals weren't unique to LG or IBM and weren't likely directly related to the ending of the partnership, the details of these bribery scandals need to be read to be believed.
From 1998 to 2003, over $207,000 USD was paid in cash or gifts to officials by IBM-Korea and LG-IBM. These payments were delivered in large LG-IBM branded envelopes to shopping bags and exchanged in locations including but not limited to parking lots near the managers' and officials' places of work or home and on one occasion a parking lot of a local Japanese restaurant. All of these bribes were targeted at individuals making purchase decisions, ensuring that LG-IBM would win the contracts. These contracts were worth tens of millions of dollars leading to an "improper gift" of $9,546USD landing a contract valued at $1.3 million USD. IBM-China also had similar issues with bribery. For more details, see this document which outlines the details of these scandals.
There is a more likely reason for the end of the partnership beyond these issues.
A Deal
During this time, IBM was in active talks with both Texas Pacific Group and Lenovo to sell off IBM's PC division. Dell was also a contender for a brief amount of time. IBM CEO Samuel j. Palmisano the summer of 2004 was hammering out a complex deal with Yang Yuanqing (Lenovo) and it isn't too hard to imagine that part of the preparations for negotiations would have involved complete ownership of control of all the markets IBM was present. This would be especially true for a purchasing company that was already established in that area. This would mean that LG-IBM would need to be renegotiated or simply cease to exist. It isn't too hard to see which makes more sense to both parties to create a clean and tidy deal.
IBM would sell Lenovo PCs through its sales force and distribution network. IBM also would provide services for Lenovo PCs—and allow Lenovo to use the vaunted IBM brand name for five years. In turn, Lenovo, leveraging its connections with the government's Chinese Academy of Sciences, would help IBM in the fast-growing China market. – The Race for Perfect: Inside the Quest to Design the Ultimate Portable Computer, Steve Hamm
An Ending
So overall the historic deal between IBM and LG seemed to be mutually beneficial to both parties. IBM gained access to another market (under a different brand) and LG gained access to IBM's information and experience. When it came time for IBM to sell its PC Division though, it was clear that IBM would need to distance itself from IBM-Korea and LG-IBM as quickly as possible to ensure that the scandals and exclusive access to the South Korean market wouldn't sour any potential deal with an interested party.
But what about the penalties for the previously mentioned scandals? Who had to take responsibility?
Ultimately that would fall to IBM. While they didn't own several of the assets that would have been involved, it makes no sense for the new owners to be fined for the mistakes of the previous owners.
On March 18, 2011, without admitting or denying the SEC's allegations, IBM consented to the entry of a final judgment that permanently enjoins the company from violating the books and records and internal control provisions of the FCPA. In addition, IBM consented to pay disgorgement of $5,300,000, $2,700,000 in prejudgment interest, and a $2,000,000 civil penalty.

Steps Taken by State Parties to Implement and Enforce the Convention on Combating Bribery of Foreign Public Officials in
International Business Transactions
AS OF JUNE 2011 WORKING GROUP ON BRIBERY MEETING

Organisation for Economic Co-operation and Development (OECD)
It would appear the LG and ThinkPad story is not over yet. Fast forward to the year 2021 and it seems that LG might have run afoul with Lenovo with LG's ThinQ branding coming a bit too close to the well-established Think branding they inherited from IBM. To read the case details, including court documents and its status, follow this link. or you can head right to the source at the United States Trademark and Patent Office.