LG has announced a new revised LG Gram Lineup sporting 16:10 displays. The main claim to fame of these devices is their lightweight, nice screens and solid build quality. They have been favoured by many reviewers for a nice moderate lifting device in terms of computer workload.
Pricing and availability should be coming out shortly. In the meantime, please see the specs below to see if any of the new models catch your eye.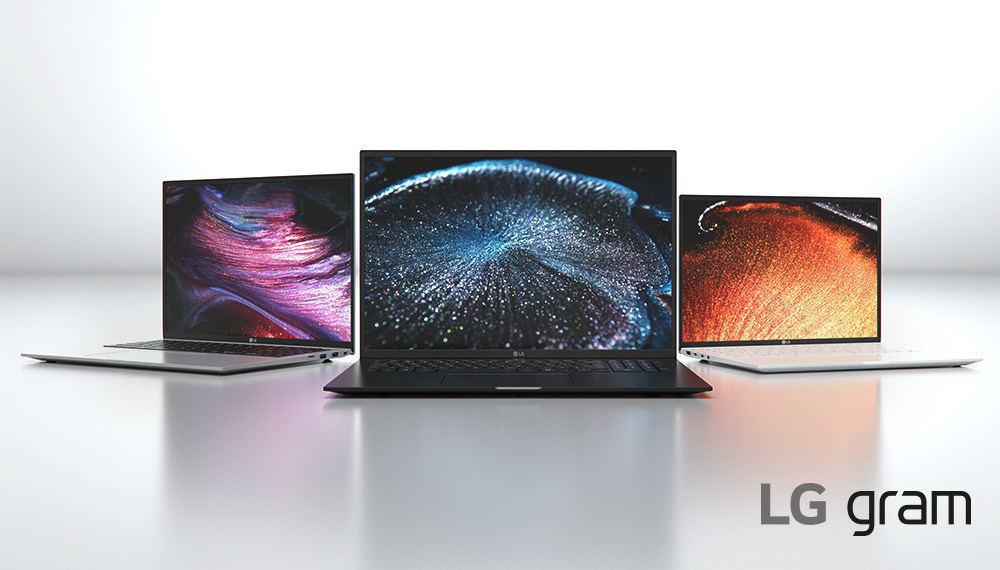 I did note that some models (with the exception of the LG gram 14) are pushing their namesake a bit in the weight category.
Specifications:
LG gram 17
(17Z90P)

LG gram 16
(16Z90P)

LG gram 14
(14Z90P)

LG gram 16 2-in-1
(16T90P)

LG gram 14 2-in-1
(14T90P)

Display Size

17-inch

16-inch

14-inch

16-inch

14-inch

LCD

WQXGA (2560 x
1600) IPS, DCI-P3 99
percent (Typical)

WQXGA (2560 x
1600) IPS, DCI-P3 99
percent (Typical)

WUXGA (1920 x
1200) IPS, DCI-P3 99
percent (Typical)

WQXGA (2560 x
1600), Touch IPS
Display, Corning®
Gorilla® Glass 6

WUXGA (1920 x
1200), Touch IPS
Display, Corning®
Gorilla® Glass 6

Aspect
Ratio

16:10

16:10

16:10

16:10

16:10

Weight

1350g (2.98lbs)

1190g (2.62lbs)

999g (2.2lbs)

1480g (3.26lbs)

1250g (2.76lbs)

Size

380.2 x 260.1 x
17.8mm
(14.97 x 10.24 x 0.70
inches)

355.9 x 243.4 x
16.8mm
(14.01 x 9.58 x 0.66
inches)

313.4 x 215.2 x
16.8mm
(12.34 x 8.47 x 0.66
inches)

356.6 x 248.3 x
16.95mm
(14.04 x 9.78 x 0.67
inches)

314 x 219.5 x
16.75mm
(12.36 x 8.64 x 0.66
inches)

Battery

80Wh

80Wh

72Wh

80Wh

72Wh

CPU

11th Gen Intel®
Core™ Processor

11th Gen Intel®
Core™ Processor

11th Gen Intel®
Core™ Processor

11th Gen Intel®
Core™ Processor

11th Gen Intel®
Core™ Processor

GPU

Intel® Iris® Xe Graphics
Intel® UHD
Graphics

Intel® Iris® Xe Graphics
Intel® UHD
Graphics

Intel® Iris® Xe Graphics
Intel® UHD
Graphics

Intel® Iris® Xe Graphics
Intel® UHD
Graphics

Intel® Iris® Xe Graphics
Intel® UHD
Graphics

Memory

8/16GB
(LPDDR4x)

8/16GB
(LPDDR4x)

8/16GB
(LPDDR4x)

8/16GB
(LPDDR4x)

8/16GB
(LPDDR4x)

Storage

M.2 Dual SSD slots
(NVMeTM)

M.2 Dual SSD slots
(NVMeTM)

M.2 Dual SSD slots
(NVMeTM)

M.2 Dual SSD slots
(NVMeTM)

M.2 Dual SSD slots
(NVMeTM)

Color

White, Silver, Black

White, Silver, Black

White, Silver, Black

Silver, Black, Green

Silver, Black, Green

Keyboard

Backlit

Backlit

Backlit

Backlit

Backlit

I/O Port

USB 4 Gen3x2(x2,
USB PD,
ThunderboltTM 4),
USB 3.2 Gen2x1(x2),
HDMI, microSD/UFS,
HP-Out

USB 4 Gen3x2(x2,
USB PD,
ThunderboltTM 4),
USB 3.2 Gen2x1(x2),
HDMI, microSD/UFS,
HP-Out

USB 4 Gen3x2(x2,
USB PD,
ThunderboltTM 4), USB
3.2 Gen2x1(x2),
HDMI, microSD/UFS,
HP-Out

USB 4 Gen3x2(x2,
USB PD,
ThunderboltTM 4), USB
3.2 Gen2x1,
microSD/UFS,

HP-Out

USB 4 Gen3x2(x2,
USB PD,
ThunderboltTM 4), USB
3.2 Gen2x1,
microSD/UFS,

HP-Out

USP

Fingerprint Reader,
Compliant with 7 US
Military Standard
810G tests***, DTS X
Ultra, Wi-Fi 6

Fingerprint Reader,
Compliant with 7 US
Military Standard
810G tests***, DTS X
Ultra, Wi-Fi 6

Fingerprint Reader,

Compliant with 7 US
Military Standard
810G tests***, DTS X
Ultra, Wi-Fi 6

Fingerprint Reader,
Stylus Pen (Wacom
AES 2.0), Compliant
with 7 US Military
Standard 810G
tests***, DTS X Ultra,
Wi-Fi 6

Fingerprint Reader,
Stylus Pen (Wacom
AES 2.0), Compliant
with 7 US Military
Standard 810G
tests***, DTS X Ultra,
Wi-Fi 6